Ballaleshwar – Pali ASHTAVINAYAK Tours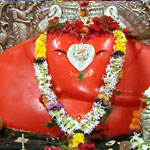 Location: Pali, Kulaba District.
Route:
Road: Forty km from the Khopoli-Shil Phata Road, off the Mumbai-Pune highway, about 11 km before Nagothane on the Mumbai-Goa highway. In Sudhagad taluka of Raigad district, near the village Nagothane, Shri Ballaleshwar is situated in the village Pali. It is at a distance of 30 kms. from Karjat.
1) From Mumbai via Panvel & Khopoli, Pali is at a distance of 124 kms. Pali via-Panvel-Pen-Wadkhal-Nagothane & wakhen is at distance of 120 kms.
2) From Pune via Lonavla & Khopoli, Pali is at a distance of 111 kms.
3)Regular bus services are available from Mumbai, Pune, Khopoli, Karjat & Pnvel
The Temple and idol:
The temple faces the east. Swayambhu (self-generated) idol with the trunk to the right.
Yatra:
Magha Shukla 4.
The two festivals celebrated here during Bhadrapada & Magha (Shudha Pratipada to Panchami). It is the experience of many devotees that Ballaleshwara fulfills all their desires & demands. Hence worshippers throng this kshetra either to express their desires & to thank him after their desires are fulfilled.
"Whoever comes here on Bhadrapada Shudha Chaturti & has my darshan, all his desires will be fulfilled." is the boon given by Ganesh to Ballal. On the night of Bhadrapada Chaturthi there is Mahanaivedyam & on Panchami there is Annasantarpan.
Devotees make 21 pradakshinas (holy rounds) of Ganapati to get their desires fulfilled & problems solved.
There is a firm belief among the devotees that at midnight of Magha Shudha Chaturthi Shree Gajanana actually comes to the temple to physically parttake the food offered as Naivedyam. Hence there is heavy rush then.
SHREE VIGHNESHWAR'S TEMPLE & IDOL
Vighneshwara's temple facing east is surrounded on four sides by a protective stone wall.  One can walk over the wall and have sight of fort Shivneri and Girijatmaj.  At the entrance ther are two 'Deep Malas' – that is stone pillar for oil lamps and two huge 'Dwar-Palaks' – that is guards. On entering the temple you will see owaris (small room for meditation) on both the sides.  Temple has a tiled compound.
The main temple has two halls. The first hall is 20 feet high and has doors facing north and south.  It has idol of Dhundiraj.  The next hall is 10 feet high.  At the entrance of this hall there is idol of one rat in running position made of white marble.  Walls of the temple are decorated by colourful and attractive sketches.  Idols of Panchayatan (Sun, Shiva, Vishnu, Goddess, Ganapati) are situated in the four corners of the sanctum.
Idol of Vighneshwar Vinayak, faces east and trunk turned towards left. The idols smeared in vermillion mixed with oil, has two emarald studded eyes and a diamond on his forehead and in the navel.  On the two sides are brass idols of Riddhi and Siddhi.  Temple has golden dome and pinnacle.  It is said that peshava king Bajirao peshava's youger brother Chimaji Appa renovated this temple and offered a golden dome on conquering Vasai fort from portuguese.
This temple was built in 1785 A.D. Temple was renovated in 1967 by great Ganesh devotees Shri Appashastri Joshi. As on today you will find a newly renovated attractive temple with all comforts.
Legend and history:
Ganesha is believed to have saved his boy-devotee, Ballala, who was beaten by villagers for his single-minded devotion to the Lord. Moroba, the brother of Nana Phadnavis and Kaka Baburao built the temple. It was later renovated by a local citizen named Krishnaji Narayan Ringe between 1824 and 1830.