Girijatmaka – Lenyadri ASHTAVINAYAK Tours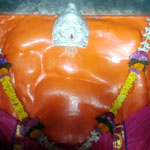 Location: Lenyadri, Pune District.
How To Reach
Road: Twelve km from Narayangaon, which is about 90 km from Pune on the Pune-Nashik highway.
The Temple and idol:
The temple is on a hill, which has 283 steps. The hill is full of caves. The idol faces north and this particular idol has to be worshipped form the rear of the temple.
Legend and History:
It is believed that Parvati performed penance to beget Ganesha at this point. This temple stands amidst a cave complex of Buddhist origin. Little is known about its antiquity. It appears that the Ganesha idol came much later than the period in which the caves were built. The temple which stands at a hill top, is in a deserted location and there is no human habitation close by. Even the archaka (priest) lives some distance away.