Moreshwar or Mayureshwar ASHTAVINAYAK Tours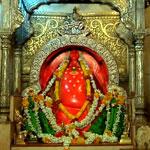 Loca tion: -Morgaon, Pune District.
How To Reach
Road: Sixty-eight km from Pune on the Pune-Bangalore highway.
Rail: Alight at Nira or Kedgaon station on the Pune-Bangalore highway. ( Regular buses ply from the station.)
The Temple and Idol:
The temple faces the north. Swayambhu (self-generated) idol with a serpent above the head. The temple has eight Ganesha idols in eight corners. These are Ekadanta, Mahodara, Gajanana, Lambodara, Vikata, Nataraja, Dhumravarna, Vakratunda. The God here is worshipped three times every day: at 7 am, noon and at 8 pm.
Yatra:
Magha Shukla 4 and Bhadrapada Shukla 4. The God's palkhi travels from Chinchwad during both the chaturthis.
Utsav:
Vijayadashami Shukla 4 and Krishna 4, Somavati Amavasya.
Legend and history:
Ganesha, riding a peacock, in the form of Mayureshwara is believed to have slain the demon Sindhu at this spot.