Shri Vighnahar – Ohzar ASHTAVINAYAK Tours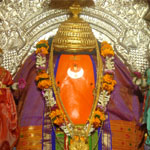 Location: Ohzar, Pune District.
How To Reach
Road: Pune-Nashik Highway, turn at Narayangaon towards Junnar, follow directions to Ozhar.
The Temple And Idol:
Swayambhu (self-generated) idol with the trunk to the left. Temple faces East and has several idols. There is a beautiful deepamala in the temple.
Legend and History:
It is believed that Chimaji Appa, the younger brother of Bajirao Peshwa had a golden kalasa fitted on the temple tower as thanksgiving for his victory over the Portuguese at Vasai. But records show that the temple was built only in 1785. It has been hence reconstructed.