Siddhivinayaka – Siddhatek  ASHTAVINAYAK Tours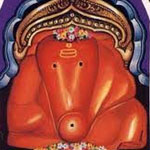 Location: Siddhatek, Ahmednagar District.
How To Reach
Road: Off the Pune-Solapur Highway. 48 km from Srigonda; 19 km from Daund.
Rail: Alight at Boribyal station on the Pune-Solapur line. The temple stands about Eleven km from this station, across the river Bhima. Regular State Transport buses ply from the station. One could also alight at Daund and take a bus.
The Temple and Idol:
Swayambhu (self-generated) idol with the trunk to the right. The temple faces the north and has idols of other gods like Vishnu, Shiva and Parvati.
Yatra:
Bhadrapada Shukla 4 and Magha Shukla 4
Legend and history:
Vishnu vanquished the demons Madhu and Kaitab after propitiating Ganesha here. Moraya Gosavi of Chinchwad is believed to have performed penance here. The sanctum of the temple was built by Ahilyabai Holkar. It is believed that Haripant Phadke regained his position as army chief after he paid obeisance at this temple. A dharmashala for travelling pilgrims has been built here.