Varadavinayaka – Madh ASHTAVINAYAK Tours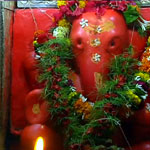 Location: Madh, Kulaba District.
Route: Road: About three km off the Pune-Mumbai highway near Khopoli (80 km from Pune).
The Temple and idol:
Swayambhu (self-generated) idol with the trunk to the left. The nandadeep here is kept burning continuously and is said to be shining since 1892. The idol was found in the adjoining lake.
Yatra :
Magha Shukla 4, Sankashti is celebrated every month.
Legend and history:
Ganesha resides here in the form of Varada Vinayaka, the giver of bounty and success. This temple has been built between 1690 and 1720. The subhedar of Kalyan, Ramaji Mahadev Biwalkar built this temple and presented this village to the temple.